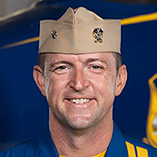 MESSAGE FROM THE COMMANDING OFFICER
Welcome to the 2021 Blue Angels season! Since 1946, we have been privileged to represent the U.S. Navy and Marine Corps to audiences throughout the U.S. and abroad as we showcase the excitement and power of naval aviation. Today, in our 74th year, we're confident that the culture of excellence underscoring every Blue Angels performance will motivate our fans to strive for greatness and follow their dreams!
Throughout naval aviation's rich 110-year history , countless aviators have written and rewritten the laws of our craft. Through their contributions to flight, these innovative men and women established the foundation upon which our flight demonstration exists today. With each performance, the Blue Angels strive to embody the commitment to excellence and passion our predecessors had for naval aviation. Our mission is forged around the same ideals embraced by those who have gone before us, and it is upon their shoulders that this team stands today.
Our team consists of 130 active-duty Sailors and Marines, each one bringing experience and expertise from their service in the Navy and Marine Corps fleets. They are a representative sample of more than 800,000 active-duty, reserve and civilian men and women who serve throughout the Navy and Marine Corps, and upon completing their Blue Angels tours they will return to the fleet to continue operational service. Every member understands and embraces the importance of teamwork and strives daily to ensure our flight demonstration exemplifies the pride, professionalism and precision found in every facet of the U.S. Navy and Marine Corps.
It is an honor to perform for you and humbling to represent our fellow service members. We sincerely hope that whether this is the first, second or 74th time you have seen us fly, the sight and sound of a Blue Angels performance delivers pride and exhilaration, an appreciation for teamwork and precision, and the inspiration to achieve excellence!
Ladies and gentlemen, it's my pleasure to present your 2021 Blue Angels!"
MEET THE TEAM