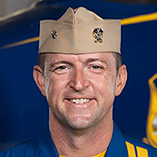 MESSAGE FROM THE COMMANDING OFFICER
Welcome to the 2024 Blue Angels' season! Since 1946, it has been our honor to represent the United States Navy and Marine Corps to audiences both at home and abroad as we showcase the excitement, precision, and power of naval aviation.
Our team consists of 138 world-class, active-duty Sailors and Marines, each one bringing experience and expertise from their service in the fleet. We are honored to serve as the representatives of the more than 800,000 active-duty, reserve, and civilian men and women currently serving worldwide in the Navy and Marine Corps.
By design and by their nature, naval forces operate abroad and are seldom seen by our nation's citizens. The Blue Angels have the unique ability to highlight the importance of naval aviation while honoring its historical significance. We proudly represent the heritage, agility, flexibility, and importance of naval aviation to 21st-century warfighting.
Our team looks forward to showcasing the mainstay of modern naval air power operating off U.S. aircraft carriers, the combat-proven F/A-18 Super Hornet, along with the Marine Corps' premiere logistics support aircraft, the C-130J Super Hercules. Both of these aircraft are operating around the world and around the clock carrying out the mission of our Navy and Marine Corps team.
We enter our 78th year with a dedication to the mission, strong work ethic, and a relentlessly positive attitude. These values have underscored every Blue Angels performance since the organization's inception. Each member of our team strives daily to ensure the flight demonstration epitomizes the teamwork, professionalism, and precision found in every aspect of the United States Navy and Marine Corps. Our team is thrilled to have the opportunity to share our passion for our profession and our nation with people around the world.
It is a privilege to perform for you and humbling to represent our fellow service members. We sincerely hope that whether this is the first, second, or 78th year you have seen us fly, the sight and sound of a Blue Angels performance delivers exhilaration, pride in your defense forces, appreciation for teamwork, and the inspiration to achieve excellence!
It is my pleasure to present your 2024 Blue Angels!
MEET THE TEAM